Wolverine Robotics (Hunter High School)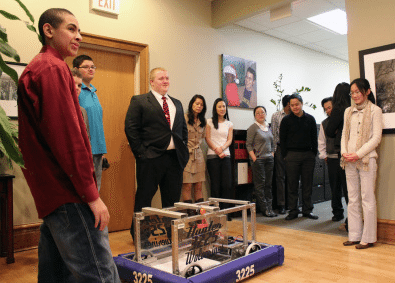 Wolverine Robotics will be demonstrating a variety of our competition and community service robotics endeavors.
---
Wolverine Robotics is a competition robotics team located at Hunter High School in West Valley City Utah. This team competes in ANY robotics related competition or activity. The team began as a Lemelson-MIT Inventeam creating an electric powered personal watercraft. At the end of the Inventeam program we transitioned and became a FIRST Robotics Competition team. Seven years later we have expanded into VEX robotics competitions, Sea-Perch, Multiplo, Humanoid form robots, computer science and community service oriented robotics.
CATEGORY: Demo, Electronics, Engineering, Robotics, STEM Education, Youth
FAIRE YEAR: 2015
WEBSITE: http://hunterhighrobotics.weebly.com/
MAKERS:

Hunter High School - FIRST Robotics - TSA - SkillsUSA
FRC TEAM 3225