All Spark Cube
The All Spark Cube is a 3-dimensional display monitor, named in honor of the device that provides life-giving force to the "Transformers" (a 2007 Live Action  Film),   Our Cube contains 4096 LEDs organized into a 2" wide grid. It took over 1500 volunteer hours to design, build, and test.  Over 3000 feet of wire and 17,000 solder connections interconnect the LEDs in a 3D matrix, and 16 custom designed circuit boards control visual effects from inside a custom cabinet.  The entire structure is almost 4 feet square and 6 feet tall with a clear acrylic protective box over the LEDs. Please come by our booth and see the mesmerizing displays we create.  We'll explain how the All Spark Cube works and how we built it.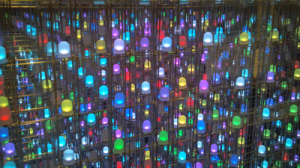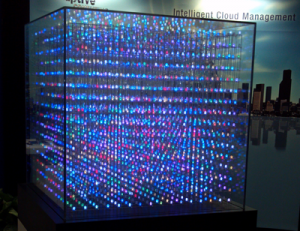 Makers: Kevin Yackley, Ian Nate, Spencer Owen, Thomas Bennett, Kevin King 
The All Spark Cube was created by a group of engineers and IT Specialists from Adaptive Computing. The lead designer and developer is an entrepreneur and friend of Adaptive with professional and personal projects that include custom home automation and energy management hardware and software solutions to global internet-based software development, and the latest creation, the All Spark Cube.  His team consisting of IT Specialists, Engineers, high schools students, friends and family whose skills range in level from simple solderers to IT Experts.  The All Spark Cube was commissioned by Adaptive Computing to demonstrate their Cloud and HPC workload management software.
MAKERS: